Sky Sports pundit Paul Merson thinks Tottenham are the worst team to watch in the Premier League.
Having been top of the Premier League in mid-December, Spurs have rapidly fallen away. Since travelling to Anfield at the summit on December 16 they've lost five of their next nine games, including three in a row for the first time since 2012.
Following Thursday evening's 1-0 defeat at home to Chelsea, they are now eighth, seven points behind fourth-placed Liverpool and 14 points behind leaders Manchester City with the pressure cranking up on Mourinho.
Some Tottenham fans will see this, while some might think I'm being harsh, but Tottenham are the worst team in the Premier League to watch, at the moment.
Sheffield United are bottom of the league and have only won two matches, but they went to Manchester the other week and didn't do what Tottenham did at home, and Sheffield United have got nowhere near the talent Spurs have got.
Thursday evening's game, the first half, for a Tottenham fan was embarrassing. It was embarrassing at the highest level. I sat and watched, and I could not believe what I was watching. It is mind-blowing what Jose Mourinho must be saying to those players.
Poor Carlos Vinicius up front. He's playing up front on his own 20 yards away from every other player.
They are playing against Chelsea and although Thomas Tuchel has turned things around, it's not a free-flowing football team. It's not a team that's going to score six or seven goals against you. Timo Werner is a good player, who hasn't got going yet.
Spurs are playing against a centre-forward in Werner who has got one goal against Morecambe in his last 18 games in all competitions and they are still sitting 10-men behind the ball.
You'd have thought Spurs were playing against Brazil or playing in the second leg of a European tie against the top Barcelona side of old. You've won the first leg 1-0 away from home and you've just got to come back and make sure you get a 0-0.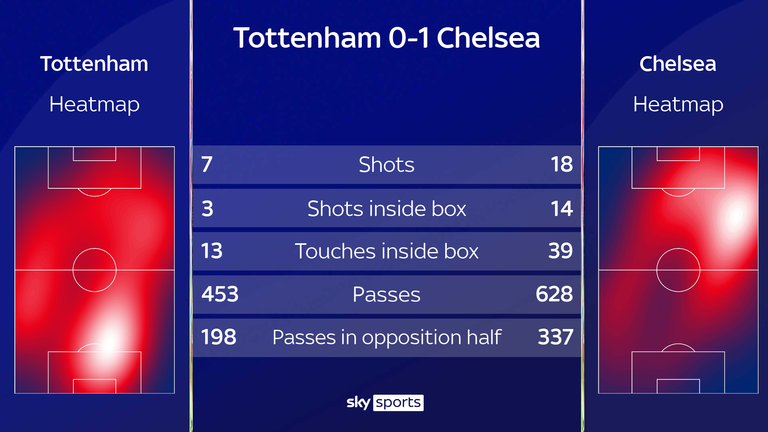 It's hard because over the years this style has worked for Mourinho. He's been great, but I don't know whether he can turn it around.
"It's hard because when you've won what he's won in the game, you ask yourself why you should have to change. That's up to him and it's a hard thing, but things do change. We don't wear flares and turn-ups anymore.
They come back in for a time and they go back out. Time changes.
It's alright saying you miss Harry Kane, but even when Kane plays it's not great football. You are relying on two things: Kane to get the ball and turn, and with his great vision pass the ball to Son. Now, Son looks completely and utterly lost without Kane. He's wondering 'who is going to get me the ball?' Who is going to put the ball through the eye of a needle?
The Gareth Bale situation will continue to play out as it did on Thursday evening.
Why have him as a sub if he's not coming on when you are 1-0 down? With Bale as a sub, there's only ever one reason he's coming on and that's if they are losing the game and they need something to happen to get back into it. He knows he's not coming on if they are 1-0 up and he knows he's not coming on if it's 0-0 and a tight game because that suits Mourinho.
He was a great player. I don't like using great loosely, but he was top draw. He was a real good player, but he looks an absolute shadow of that now.